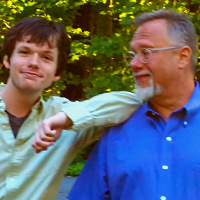 Joshua and Alan Jude Summa
Action & Adventure, Science Fiction, Horror, Children's
Born

15 July 1992, Dec. 27th, 1960
Profession

Restoration specialist, Manager.
Our new book "Courage for the first Day of School" was written by Joshua Summa and illustrated by his Dad, Alan Jude Summa.
Alan is an award winning, internationally published illustrator and honored to illustrate Josh's first book.
Video
Courage for the first day of School
Joshua and Alan Jude Summa Books
The greatest evil which fortune can inflict on men is to endow them with small talents and great ambition.
Luc De Clapiers